Besides the fact that Serena Williams pulled off another comeback win at the US Open on Monday, reaching the quarterfinals at a grand slam for the 53rd time, for the first time in Grand Slam history, three moms are into the quarterfinal. 1. Serena Williams 2. Victoria Azarenka 3. Tsvetana Pironkova. Yeah, we're feeling all that #GirlPower from here, too.
Soooo, inspired by this week's major sports events, we compiled a few extraordinary, powerful, and relentless women who are all making SaaS a much better place too. They have impressive professional achievements, all the way from founding companies through to running international operations across continents. Did you know them all?
1. Janine Pelosi
Company: Zoom
Position: Chief Marketing Officer
Janine Pelosi is the Chief Marketing Officer of Zoom, a leading enterprise video communication company, which was founded in 2011 and went public in April of 2019. Janine has been instrumental to the company's rapid growth and incredible success. Her responsibilities are wide-ranging and cover brand awareness, go-to-market strategies, product marketing, communications, lead generation, and customer marketing among other activities. In 2018, she took on yet another key role – leading the company's online business unit.
Janine has a long 15-year history in video communications. She came to Zoom as the former Senior Marketing Manager for Cisco's WebEx Online. While there she led customer acquisition, public relations, social media, events marketing, and other key marketing functions. Janine had actually been with WebEx since it was an independent company initially joining in 2004 as an advertising specialist. She received her bachelor's degree in marketing from San Jose State University.
5. Bozoma Saint John
Company: Netflix
Position: Chief Marketing Officer
Before being nominated to run the marketing operations of the world's leading streaming entertainment service with 183 million paid memberships in over 190 countries, at the beginning of her career, Boz got her start in marketing at Spike Lee's advertising agency, Spike DDB. She then went on to manage brands within the PepsiCo beverages portfolio, before becoming Head of Music and Entertainment Marketing at the CPG giant; followed by Head of Global Consumer Marketing at Apple Music & iTunes; then went on to serve as Chief Brand Officer at Uber; before taking on the CMO role for Endeavor.

Boz's career has been marked by induction into Billboard's Women in Music Hall of Fame (2018) and the American Advertising Federation Hall of Achievement (2014), as well as recognition on The Hollywood Reporter's Women in Entertainment Power 100 list (2018) and on Forbes' World's Most Influential CMOs list (2018). Boz has also been featured on the cover of Adweek as "one of the most exciting personalities in advertising" and on lists ranging from Fast Company's and Ad Age's Most Creative People to Ebony's 100 Powerful Executives, Black Enterprise's Most Powerful Women in Business and Fortune's Most Influential CMOs.
3. Melanie Perkins
Company: Canva
Position: Co-Founder & CEO
Melanie Perkins likes to set "crazy huge goals and make them happen". No kidding! Melanie raised one of Australia's largest early-stage investment rounds as CEO of Canva, a disruptive online design, and publishing tool and she turned her 'Future of Publishing' idea into a SaaS unicorn.
Canva is an online design and publishing tool which makes graphic design simple for everyone. Canva has been growing rapidly since its launch in August 2013 and is now empowering millions of people across from every corner of the globe to create great designs.
4. April Underwood
Company: Slack
Position: VP of Product
April arrived at Slack a little over two years ago as Head of Platform and in a short period of time rose to VP of Product.  April earns high marks from Slack CEO Stewart Butterfield who believes her combination of skills in engineering and business development makes her an ideal person to have at the product helm.  The tech specialist really hit her stride in her prior leadership roles at Twitter from 2010 to 2015, where she eventually rose to Director of Product.  Previously, April was a product technology manager at Google and product manager at Travelocity.  She graduated from the University of Texas at Austin and earned her MBA from Berkeley. April sits on the Board of Zillow.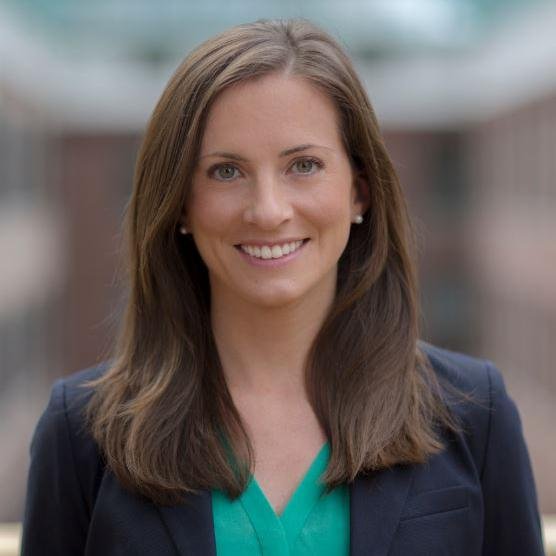 5. Alison Elworthy
Company: Hubspot
Position: VP, Operations
At Hubspot, Alison is responsible for the inbound marketing and sales software company's operating system, pricing and packaging, and strategic planning. In her tenure at the marketing tech company, she has held various roles including Marketing Operations Manager, Sales Operations Senior Manager, and Director of Operations. Prior to Hubspot, she served as a User Experience Specialist at Fidelity Investments, where she focused on the customer experience of their business and customer-facing products and websites. Alison is a board member at Women in the Enterprise of Science and Technology (WEST), a learning community that provides women in the enterprise of science and technology with inspiration, knowledge, and connections so to help them reach their full potential. Elworthy received a BS in Human Factors Engineering from Tufts University and an MBA from the Tuck School of Business at Dartmouth.